Braids of The Short Dreams
Mamma braids her daughter's thoughts.
The cuckoo cooing in the back of the brain
sounds shallow and floating between
the weathered Coca-Cola sign and the dog barking.
And the dog barks for hours in this short dream
the way the watchmaker grandpa winds
a long spiral ribbon into a tiny coiled spring.
During the noontime the houses, lanes, half naked
men working on a cancelled project and the trees, all
become the Sun. Mamma has a small and big hand
that screens the eyes of her daughter, and they're
the Sun; ropes of their entwined hair bounds toward
the hole of the burning maws of awakening.
Flesh of the Republic
Body and flesh float away.
Rivulets. Entire sky
seeks an address, finds
my vein instead.
Where will you lose
the threads that sew a quilt,
patchwork, tales?
Winter comes and goes;
frost never melts;
you know what I mean.
Body and flesh float into
my vein, and I ask them for their permits;
they can inside, but can not permeate;
I won't let them be the citizens
of this rotten republic.
SERIAL
He records his chitchats
with the cab drivers, not all,
those with the ones
he kills.
There exist avenues
and lanes of cabs taxiing
driverless,
and recordings replayed
over and again in his id,
and then
he finds his son working
for an app-cab using
a forged license.
He records his son, as if
his ears metamorphose themselves
into two answering machines,
defunct.
These annals are better
than any psychiatrist's,
the father of everything
listening to his killer instinct.
BITCHING ANAMNESIS
Deluge, the bitching mistress on our backs,
bites our earlobes as
I sent your claim – I can
efface life memorized.
I can. Only mine. The process
involves adding more, not less,
the same way you do most of the days,
except those when it rains
in the excuse of this balcony or
when it shines and you stare downwards,
see the hissing serpent of the traffic
looking up at you, out of reach.
I do not rerun the tapes, listen
to the protest pops from the Nam times.
Rain writhes to arrest my mind,
albeit an antiquated man has his disinterests.
I say, "Just forget."
I Was as Cold as a Razorblade
In the late autumn winter
whimpers in her oxygen tent,
and we nurse this premature child,
see her wither, bloom, sear, brown, exsiccate.
Hence December surprises us
when she arrives for a date
wearing white sleeveless
and drinks from someone else's chalet.
The potion was red. The poison bears no effect.
We toss our fedoras, shuffle to dance,
tire out and stroll outside,
our feet disappearing inside
the heart of crushed water.
Our hands in the pockets of warmth
seeks for a tinge of Yes
and finds some forlorn gums
we keep for protection's sake.
*The title is wordplay on Leonard Cohen's So Long, Marianne
Milestones
We sit there, oracling,
drinking for ages; we
chat about different drinking-ages
and different countries;
sun sets in liver tinge;
pigment of the stream cooling,
fibers of our thoughts unreeling,
we sit there, eyes on nil.
We sit there, nothing,
and water pegs down our shadows
as if those will be its
Maypoles and wheel – time will swing by.
Raising The Time
The torn dress from
the fundraising dance
taps some memory cells;
half of you desire to
make a mop out of its residue,
but since you cannot wipe
enough memories
your hands force it down
against your thighs.
I suggest –
"Let's raise the time again.
Time and again."
A GLACIER FOR THOUGHTS
The eye in the pink sky
denies any foresight.
"We have a glacier melting
in
Himalaya." Says pop folding his freewill.
This means it will be
the rush-hour of depression
in his ecosystem,
and the day remains naïve native
accepting gifts from our invasions.
A coin decides
whether my sister
will enter in her classroom
and
shoot everyone or waive this.
"Don't!" I whisper.
"Yes." Pop says
on a topic irrelevant.
A crow on the ceiling fan
caws a dream
melting as my pop's coral reef
corrodes away within.
Love Thy Father
You still love your father,
and do the one thing
that destroys him every day
and rebuild him again
as if he is naphtha or plastic.
His quick silver hand quavers with
the weight of your
nocturnal telephone calls-
"Hello! How are you?"
You always say,
"Talking to you dad,
is a remembrance of my mom's winter."
The State of Being During An Autumn Day
Autumnal gloaming, chill-filtered,
retains most of the darkness.
I stare at the pecans a hit-and-run
windy incident has crashed into the yard
I can always trespass leaving no evidence.
The rolled newspaper, asleep, on my table
wets its staple. A shiver walks my spine as if
my backbone recovers from a wheelchair
worthy trauma. Ticks, the Casio clock.
All these state the state of being.
Sometimes, since the outbreak, I hallucinate
my being shrugging off my body and staring,
first, at the mass of flesh, and then, at distance
ever vague and ever everything.
Death And Desire
That night you towel wrapped
the thirst of your partner.
You both died. The butterflies
in a painting behind your head
tried to escape, but the flight was cancelled.
The panes paved a shortcut to winter.
You picked up the towel dropped
around the ankles still wearing black
metal anklets you bought for her,
and wrapped her flesh. You both grieved
the death in the family. One craved for
flesh and the otherness in you sought for
the space where darkness garden blue agave.

An October Murder
"Did you see who shot you?"
"It was October. I opened a door
the size of a bullet hole."
I whisper from a distance a whisper
can cross in its lifetime
to reach you almost dead. You hear,
and it withers. Withering seems
a garden, silent, and I on my bare feet,
grass appeasing one sensation
to swell me up with another.
"It was October. I opened the door.
It was a muzzle and a flash."



Intimate, Unknown
The way one cleanses his October refrigerator,
without any provocation, without his partner's hints,
almost as if that moment has been scheduled
or seen in the past, as if his muscle reaction
picks up the bottles and vegetables, packets and tubs,
casseroles and bowls full of forgotten experiments
with vegetables, and the contents of those packets and tubs
and a dram from the bottles' nozzles, places them on the floor,
dismantles the shelves, sponges them gently and puts all together
I find me in intimacy with you, unknown.
Your hair unlocked by my hands, whisked back by my reflexive fingers
reveals the unknown in the unknown. I disassemble
your chrome and beige dress and unlock the sweat beads.
We could have been talking about the pestilence
or war or patience or the dire dearth of the same.
We could have been pondering over a jigsaw puzzle.
It does not matter. We are intimately unfamiliar.
Famously alone. The quagmire of cold water on the floor,
or our bodily fluids puddled around us evaporate. October.
The mellow songs are served at room temperature.

An Interview with Kushal Poddar
Please describe your latest book, what about your book will intrigue the readers the most, and what is the theme, mood?
Kushal – This Christmas, my book 'Postmarked – Quarantined' shall be published by IceFloe Press, Canada. The highlight of the book is the plague, human reaction, my daughter's birth, and how a person, vulnerable the way I am, may interact with the rules of the universe he must abide.
What frame of mind & ideas lead to you writing your current book?
Kushal – As I said, the book encases my own vulnerability, albeit I always endeavor to scriven in a universal tongue. The idea is – write from personal experience, blend with news, and then read and rewrite the poem from a neutral perspective.
How old were you when you first have become serious about your writing, do you feel your work is always adapting
Kushal – I was fifteen, and although I imitated writing rhymes since I was a six years old child, it was during a summer holyday of my sixteenth year in this world I began to adopt my only identity as a writer.
What authors, poets, musicians have helped shape your work, or who do you find yourself being drawn to the most?
Kushal – The list may lengthen itself but the salient influence, I must say, oozes from Wilfred Owen, Frank O'Hara, Charles Simic, Franz Wright, Billy Collins, Ted Kooser, Mary Oliver, Graham Greene, Gabriel Garcia Marquez, Borges, Milan Kundera, Hemingway, Raymond Carver, Raymond Chandler, Philip Roth, John le Carré, and Neil Gaiman and the music of Dylan, Simon & Garfunkel, Jethro Tull, Billi Holiday, Louis Armstrong and Nina Simone (as of tryst, and the list drifts).
What other activities do you enjoy doing creatively, or recreationally outside of being a writer, and do you find any of these outside writing activities merge into your mind and often become parts of a poem?
Kushal – Sketching and painting often clear the cobweb of my mind. I used to take photographs. I often write whisky criticism. These activities add curves to the flesh of my writing (writing includes, poetry, short stories, and now a fragmentary novel).
Tell us a little about your process with writing. Is it more a controlled or a spontaneous/ freewriting style?
Kushal – Writing is a continuous process. I write in my mind when I am not on paper or computer. I mumble an entire poem or short fiction sometimes to my daughter or to my wife, and then when time permits scribe it down. Is it free-writing? Not actually. The process is curated by years of reading and syllable counting presently made into a reflex.
Are there any other people/environments/hometowns/vacations that have helped influence your writing?
Kushal – There are all my fellow poets I met online and offline. There are my wife, daughter and a difficult relationship with my parents. There is political news and the news of sports. I deliberately created a fictional hometown for my poems or other kinds of writings. This town consists of elements of East and West, and can be felt as the reader's own one.
What is the most rewarding part of the writing process, and in turn the most frustrating part of the writing process?
Kushal – The rewarding part is mental peace attained after writing it down as if I have cleansed a part of my memory, and also whenever a piece is published I receive the thrill of a junkie. The frustrating part is not having enough time to write everything I desire to write.
How has this past year impacted you emotionally, how has it impacted you creatively if it all?
Kushal – I had many premonitions about this past year. I was living a tale written by Stephen King or Camus. The part that took me by surprise and that made me defenseless was the news of my wife's pregnancy during this pestilence. I was deeply worried about the safety of my wife and my daughter. I began to write a poetry-journal about the day-to-day emotion that surged inside out.
Author Page Amazon – amazon.com/author/kushalpoddar_thepoet
Author Facebook- https://www.facebook.com/KushalTheWriter/
Twitter- https://twitter.com/Kushalpoe
An author and a father, Kushal Poddar, edited a magazine – 'Words Surfacing', authored seven volumes including 'The Circus Came To My Island', 'A Place For Your Ghost Animals', 'Eternity Restoration Project- Selected and New Poems' and 'Herding My Thoughts To The Slaughterhouse-A Prequel'.
Find and follow him at amazon.com/author/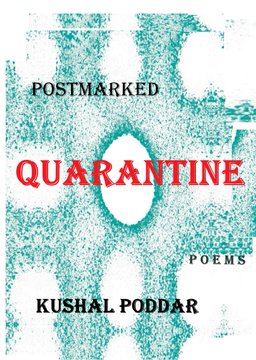 Bio: An author and a father, Kushal Poddar, edited a magazine – 'Words Surfacing', authored seven volumes including 'The Circus Came To My Island', 'A Place For Your Ghost Animals', 'Eternity Restoration Project- Selected and New Poems' and 'Herding My Thoughts To The Slaughterhouse-A Prequel'. His works have been translated in ten languages. Find and follow him at amazon.com/author/kushalpoddar_thepoet
AuthorFacebook- https://www.facebook.com/KushalTheWriter/Twitter- https://twitter.com/Kushalpoe