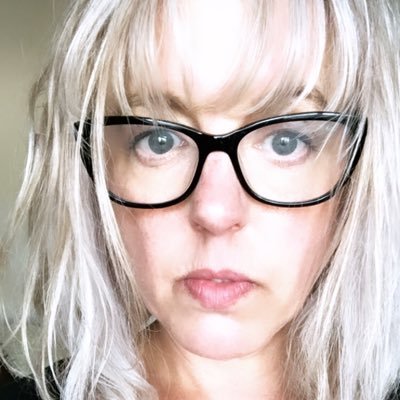 Bio: Rachel Coventry lives in Galway. She holds a PhD in Heidegger's poetics from the National University of Ireland, Galway. Her poems have appeared in various journals including The North, The Moth, Poetry Ireland Review, Cyphers, Stand, Southword, The Irish Times, and The SHop. She won the Galway University Hospitals Arts Trust Annual Poetry Competition in 2016 and has been short-listed for many other competitions including The Patrick Kavanagh Poetry Prize. Her debut collection Afternoon Drinking in the Jolly Butchers (2018) is published by Salmon poetry and her second collection is forthcoming in 2022.
We Discuss The End of Our Relationship



If love is sustenance,  
ours was just honey or cream,

things you didn't like the feel of
on your fingers,

sticky and insubstantial,
a summer holiday without end,

life without toothpaste
or bullies,

but still in two aspects,
as a dress has an outside and an in,

next to the skin, seams blanket-stitched
to prevent them fraying.

Some fabrics are so fine  
they are ravaged by existence

(your cheek against mine)
I miss its sweetness.




A New Fire



In memory, I still experience
the ease with which we connected 

much as ash holds the shape of paper,
even, sometimes, the words in negative

but so delicate as to disintegrate 
at the tip of the poker. Why would I 

want to read it now? After all,
I threw it to the flames.

There will be another fire
once I've cleaned out the grate. 

What seemed an aberration turned out
to be the future; your generation, 

so much prettier, if only I could believe
in them, but the bones of the old dogs 

are still in their back garden graves.
No matter. This future doesn't involve 

significant restructuring of existing 
architecture, but the fact I'll stay 

here in Westside will seem
strangely miraculous and I will  

continue to drive from carpark
to carpark. Don't worry

about that. 



But knowing that poems are things we can put on shelves


(After Dorothea Lasky)

Tonight there's six hours 
and one minute of darkness
I need to make the best of it
tomorrow it will be less 
but on I blaze
relentless.

I decide action will save me
it's the usual story,
if I do Pilates, 

declutter
bring my books to Charlie Byrne's 
where some girl in the future 
will find them think them plausible,
inspiring even.

I do not care about you women
coming after me, making me
a footnote in your theses.

It's too late, I'm burning
and I'm making a pyre for you.
Young woman you will burn
and it won't matter
what you do.

Your love poems aren't true.
If there was a man here now
I'd hate him, in his absence
I hate myself, the dog is downstairs

I hate her, the dawn chorus
is so feeble these days. 
Take these birds away. 

Leave me with a single magpie.
Let grey light stretch across me.
Let me get on with it.



Samo



The first thing was a car accident
BANG! Memory begins
with pain, with sirens 
with awareness
with Gray's Anatomy
he saw his own body
and knew he was something
that could be, 
but also be expressed
then there are multiple choices
tick this one
Samo is an ex-pression of spiritual love
Do I have to spell it out?
(SAMO©) A PIN DROPS LIKE A PUNGENT ODOR 
SAMO as an alternative GOD
SAMO© IS DEAD
there are many deaths
many things to look at
Caravaggio's chiaroscuro
the big city smashed
like we dropped a bomb on ourselves
he said dreaming of war 
as boys do.
but then money
and caviar and Crystal and cocaine 
bundles of money hidden everywhere. 
and drugs helped you
made your mind free
money and drugs
like we dropped a bomb on ourselves
he said. There was a lot of jealousy
and animosity. It was fine when
we were all poor. 



Therapy



I peel off explanations 
as I would cotton or denim;
jeans, t shirt, bra, pants
layer after layer examined
and discarded, each sufficient,
but incomplete, especially now
they are emptied.  
Even my final 
nudity is a deceit, 
a lie spoken
so frequently 
I believe it.
Go on, 
he says, 
strip.




My New Favourite



Another woman may have blushed
if you looked at her that way.
I simply added you to my collection
of beautiful porcelain ambivalences, 

almost enough to keep me from myself. Oh why 
do I lie? The gap between me and I is shrinking 
all the while, even as my shelves fill with pale figurines. 
You are my new favourite, so serious.

A wiser woman would've smiled and looked away
but I built my home on this empty tension, bricks stacked
in running formation, rafters point in opposite ways. 
A precarious location for fine-boned china.

My mother used say I was contrary. 
Come on, let's break something.




Autumn Poem



This poem is more a statement than a poem
It's not open to interpretation
I'm so sick of all this interpreting
this analysis of symbolism. 
The only mercy is few will read it;
it will lie there inert in the blackness
between two closed pages. Maybe it's time 
for a stanza break, or turf smoke pressed 
heavy on a late October evening.
How about this for a dichotomy
total artistic freedom but no one 
listening or the secret police knocking
down your door? Oh, how we all want someone 
to listen, even if they get it wrong. 




A Nettle Patch is an Impenetrable Barrier to a Child





She doesn't have access to gloves and secateurs.  
She doesn't have access to strimmer or saw. 
She doesn't have access to weed killer. 
She cannot drive earth-moving equipment. 
She cannot be trusted with explosives. 
They will never let her study architecture. 
She cannot enslave men to build a road. 
She cannot buy ten thousand tonnes of concrete. 
She does not have furnaces to make glass. 
She has no will to confine nature to a park. 
She does not confuse this place with the map. 
Though, in time, she'll find a city black with forgetting
on the High Street, a bar with smokers outside. 
He'll tell a joke, she'll flick back her hair and laugh.



The End



A random acquaintance 
pays homage to a friend.

I click on the blue name
land on his page, scroll
 
down through years of 
tributes, love hearts,

sad birthday wishes.
I miss you. Gone, but 

not forgotten
all way down

to the man himself,
waiting for something to happen.